Reprinted from Plastics News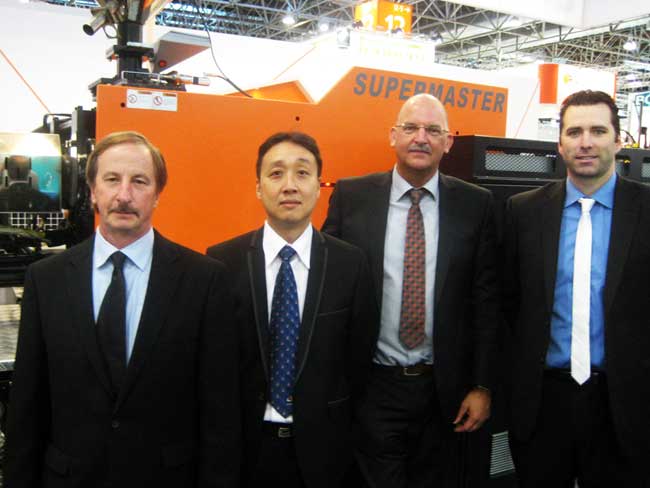 DÜSSELDORF, GERMANY — Hong Kong-based machinery maker Chen Hsong Holdings Ltd. is making a concerted push into export markets to counter more difficult conditions in mainland China, and is looking to increase sales in two-platen machines.
In an interview at the K fair in Germany, executives with publicly-traded Chen Hsong said they hope that a new European sales and service operation unveiled at K and stepped up efforts in North America can help it overcome softness in China, where sales fell 3 percent in its most recent fiscal year.
Export sales, by contrast, rose 11 percent in the fiscal year ending March 31, which held its overall sales to only a 2 percent drop, to HK$1.79 billion (US$230.7 million). Mainland China and Hong Kong currently account for 65 percent of company sales.
"We are growing the international markets more seriously," said Stephen Chung, executive director and group chief officer of strategy, sales and marketing.
The company this summer opened Chen Hsong Europe BV, with a warehouse and technical service in Ulft, The Netherlands.
At K, the company was unveiling its smallest two-platen machine yet, a model with 700 metric tons clamping force, and showing a two-color, direct clamping hydraulic machine, which the firm said is unusual for an Asian machine in terms of its precision.
Chung said the company was also preparing to ship a 6,500 ton two-platen machine to a customer in Israel, which it said is the largest machine produced in Asia.
In 2010, Chen Hsong began a technology licensing partnership with Japan's Mitsubishi for large machines. But Chung said the big machine for the Israeli customer came entirely from Chen Hsong's own technology.
Two-platens are about one-third of sales but could be half of sales by the end of next year, he said: "We are really coming up on our two-platen machines."
At its K booth, company representatives talked more about their plans to expand into European and North American markets.
H.L.A. Corbey, general manager of Chen Hsong Europe, said they see opportunities as European molders held back on spending during the recession, but now need to replace equipment and are looking for cost-effective machinery.
Chinese plastics machinery imports to Europe rose 8 percent last year, according to the Brussels-based trade machinery trade group Euromap.
Corbey said processors in Europe, including in Germany, are more open to Chinese equipment: "This is something you didn't see in the past."
At K, the company was also touting a "Euro" series of machines with controllers designed for the European markets, Corbey said.
Both Corbey and Chen Hsong's representatives in the United States said the automotive market is one where they are focusing.
Ryan Pysarchik, general manager of Jenison, Mich.-based Gluco Inc., said last year was their best year yet selling Chen Hsong machines in the United States. Gluco started selling Chen Hsong equipment five years ago, he said.
He said the company sees fellow Chinese firm Haitian International Holdings Ltd. as its main competitor in its markets in the United States, with its rival getting an earlier start and Chen Hsong hoping to now take market share.
"Haitian pretty much had it," Pysarchik said.
Chung said Chen Hsong also is working on a new all-electric which it will unveil "in the near future."
The company, which is China's second-largest injection molding machine maker, is also focused on emerging markets.
It opened a sales and service office in Brazil earlier this year, and Chung said the company has "a number of initiatives ongoing [in other markets] but they are confidential."
You may also be interested in the following