The InterPlas Thailand 2023 event proved to be an exciting stage for Chen Hsong to showcase our cutting-edge injection moulding solutions. Let's delve into the key takeaways and how our innovative technology made a mark in the industry.
Showcasing Efficiency and Quality: The JM200-PET/S
Chen Hsong's participation at InterPlas Thailand 2023 was nothing short of extraordinary! Our team exhibited groundbreaking solutions in the plastic and packaging industry, making us a standout at the esteemed exhibition. The JM200-PET/S, an impressive injection moulding machine, produced PET preforms with a remarkable cycle time of just 12 seconds. With each 15g PET preform, it demonstrated superior quality and efficiency.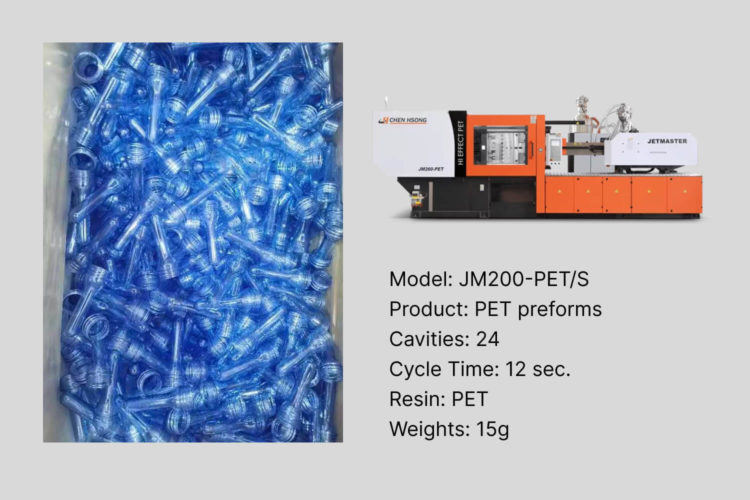 Demonstrating Precision and Performance: The JM168-MK6.6/A
Our JM168-MK6.6/A also showcased its precision and performance. This state-of-the-art injection moulding machine produced PP resin cups with a cycle time of 15 seconds and a weight of 31g each. Its wide clamping force range, innovative CPC6.6 controller, and advanced motion-control algorithms left a significant impression on the attendees, marking it as a key player in the future of the plastic and packaging industry.

Leading the Charge in Plastics Manufacturing
At InterPlas Thailand 2023, our machinery's successful performance showcased Chen Hsong's dedication to refining plastics manufacturing with innovation and efficiency. The impact of our advanced technologies was evident, and the potential for their application across multiple industries – from automotive parts to cosmetic packaging and beyond – was clear to see.
Being part of InterPlas Thailand 2023 underscored our commitment to sustainability and productivity in plastics manufacturing. As a participant, we were proud to contribute to the industry's movement toward a more eco-conscious future.

Future Prospects: Chen Hsong's Ongoing Drive for Innovation
Reflecting on our experience, we're already thinking ahead. Chen Hsong is dedicated to the continued development of top-tier machinery and fostering innovation within the plastics industry. We eagerly anticipate the next opportunity to connect, share insights, and collaborate towards a more sustainable and innovative future.
You may also be interested in the following