Chen Hsong's Two-Platen Injection Moulding Machine with Unique "Y-Injectors" Won "Award for Innovative Product Development"
During the 15th Session of the Shenzhen Enterprise Innovation Record Results Released Conference, held on 6th January, 2017 by the Shenzhen Industry Association, Chen Hsong was awarded "Record of Shenzhen Enterprise Innovation – Award for Innovative Product Development" for its 6,500-ton ultra-large-tonnage, two-platen injection moulding machine with unique "Y-Injectors" technology.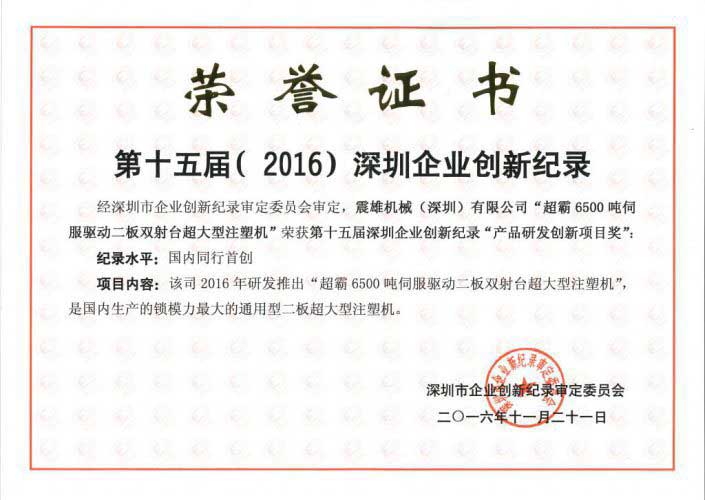 As obvious as it looks, why does Chen Hsong keep winning awards for technical innovation? The secret is Chen Hsong's long-time commitment to high-end research, technology development and application innovations. Since introducing China's first "real" two-platen injection molding machine in 2007, Chen Hsong has since launched a number of "firsts" – the 4,500-ton, and then the 6,500-ton monsters, Asia's largest. This latest award was given for "Y-Injectors," a unique new technology that once again sets new standards for the industry.
As the name suggests, "Y-Injectors" mean two injection units on a single machine, both capable of operating synchronously or independently. You may ask, and you'll be right to ask, "Just where did the inspiration for something like this come from?" From our clients, of course. It all started with one client with a unique need (well, maybe not so unique) – producing 110kg large-sized boxes for the environmental industry, as well as a full range of smaller (as small as 10kg!) container products and accessories. Normally, such 11-to-1 difference in shot-weights would have mandated more than one injection moulding machine, maybe several. Chen Hsong, however, accepted the client's challenge to have the same machine (a 6,500-ton monster, largest in Asia) produce all products. The result was the truly innovative, and award-winning, "Y-Injectors" technology.
The advantages and flexibility provided by "Y-Injectors" technology can hardly be overestimated; it is truly a paradigm shift. Use both injection units for large-sized products to maximize shot-weight; use only one injection unit for smaller-sized products for highest energy efficiency and maximum precision; use both injection units, one after the other, for small-sized products with short cooling times to squeeze out the best cycle time possible.
As complete testing and verification is necessary for any new technology, Chen Hsong's "Y-Injectors" technology underwent a rigorous testing and verification process before launch. Not only were measurements made and compared, real products, large and small, were successfully produced on the platform before calling it a day. Only then was the machine finally shipped to the client in September, 2016, and has been operating flawlessly ever since.
"Y-Injectors" is innovation in every sense of the word, having spawned multiple patent applications for different parts of the technology. The award-winning injection molding machine boasts swept volume 76,085.5 x 2 = 152,171 cm3, and maximum shot-weight (PP) of 55,515 x 2 = 111,030g.
While environmental is increasingly a global concern, demands for packaging and products for logistics is also growing rapidly amid ever-expanding world trade. Chen Hsong leads the industry in large-tonnage two-platen injection moulding machines, and we intend to keep this lead via more technological innovations in the future. With our focus in R&D and advanced applications, we shall continue to provide our global clients with injection moulding machines that are higher quality, more efficient and more flexible than ever.
We keep to the forefront of the industry, so our clients get the value they deserve.
You may also be interested in the following