12th December — the only date in the entire year that potentially rivals the "Double-11" (i.e. 11th November) for on-line shopping. But what else is notable during the "Double-12" day for this year in 2018?
Of course, there is the Chen Hsong "SPARKS" event — a New Products Carnival for Chen Hsong to also celebrate its 60th year anniversary. On that day, over 600 guests converged onto the Chende grounds in Shunde City, Guangdong Province of Southern China. On that day, all our senses were saturated by the lights of sounds of amazing new technologies and exciting new products. On that day, everybody left a changed person.
Let us revisit the event that brought such red-hot excitement to a freezing winter day!
Opening Act: Chiang Chen Industry Charity Foundation Summit Seminar on Artificial Intelligence and China Manufacturing 2025
Tracking close to world-wide technical trends, AI (artificial intelligence) and "China Manufacturing 2025" have already become a common goal being pursued by most equipment manufacturers in China. In an era of popularized, readily-available AI services, traditional manufacturing industries are ever more being pressured to find the "perfect marriage" of AI with industrial processes. The Chiang Chen Industry Charity Foundation (CCICF), majority shareholder of the Chen Hsong Group, invited two of the most celebrated researchers in this realm — Professor H.M. Zhou from the Central China University of Technology, and Professor Hideo Akimto from 小叶产业株式会社 of Japan — to speak in a fabulous summit seminar held at the Sheraton Hotel in Shunde City. The topics presented and discussed would have significant implications to the application of AI within the injection moulding industry.
Professor Zhou spoke first on "Intelligent Control Technology for Injection Moulding Processes" — a hot topic within the industry of plastic injection moulding. According to Zhou, advanced, intelligent technologies for the injection moulding process is already a "solved" problem, and practical solutions are progressively being applied by many in the industry. Today, it is completely possible to enhance the production of plastic moulded parts through more intelligent, adaptive controls, leading to superior quality, precision and performance.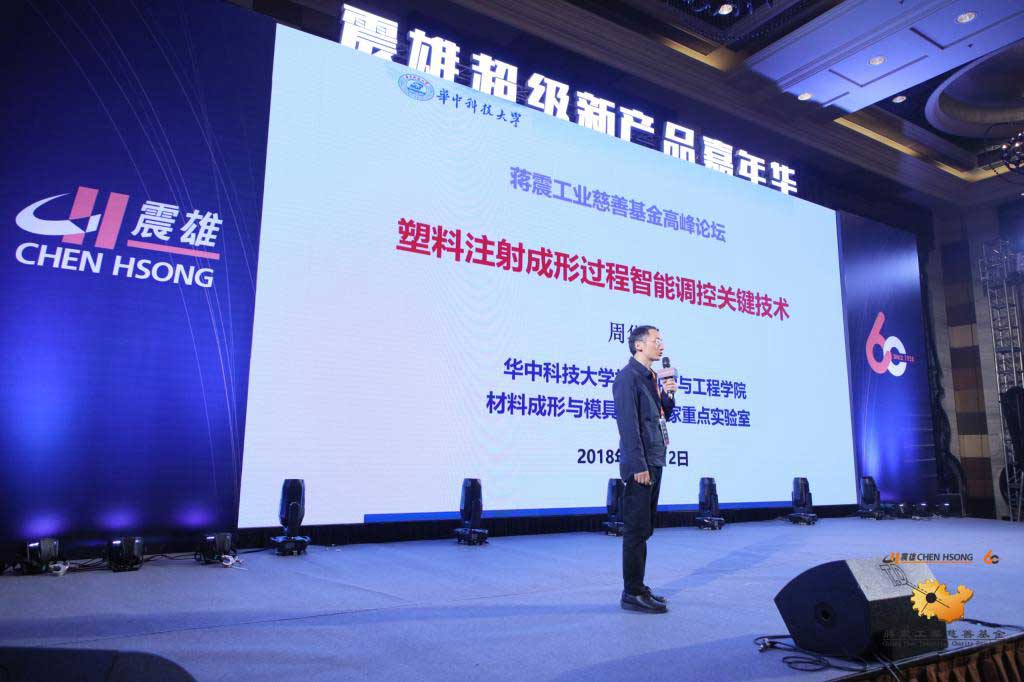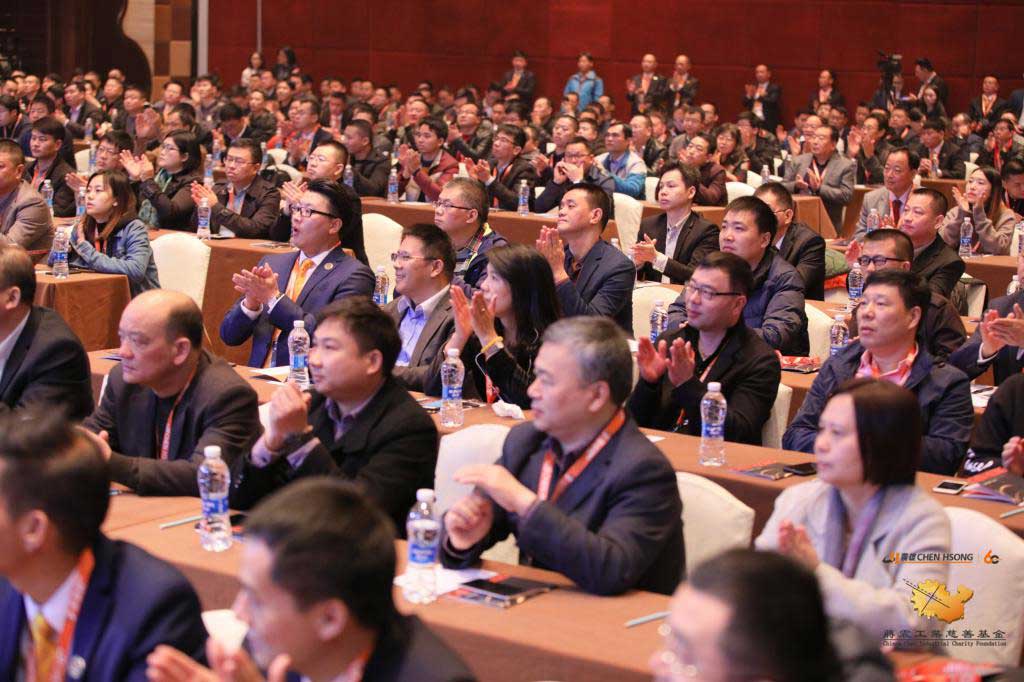 Professor Akimoto spoke on the latest "environmental-friendly" plastics production — a topic close to the heart of many in China manufacturing circles. Prof. Akimoto shared the latest state-of-the-art in bringing more environmental friendliness to plastics via advanced formulations with natural/organicadditives, the challenges faced and innovations achieved. For example, recycled or recyclable plastics typically have lower melting points which add to processing difficulties, thus requiring novel solutions to better control processing temperatures when using organic additives. The problems and solutions discussed by Prof. Akimoto garnered significant responses and interests among all who attended; needless to say, that was simply because environmental protection is always a hot issue anywhere in the world today.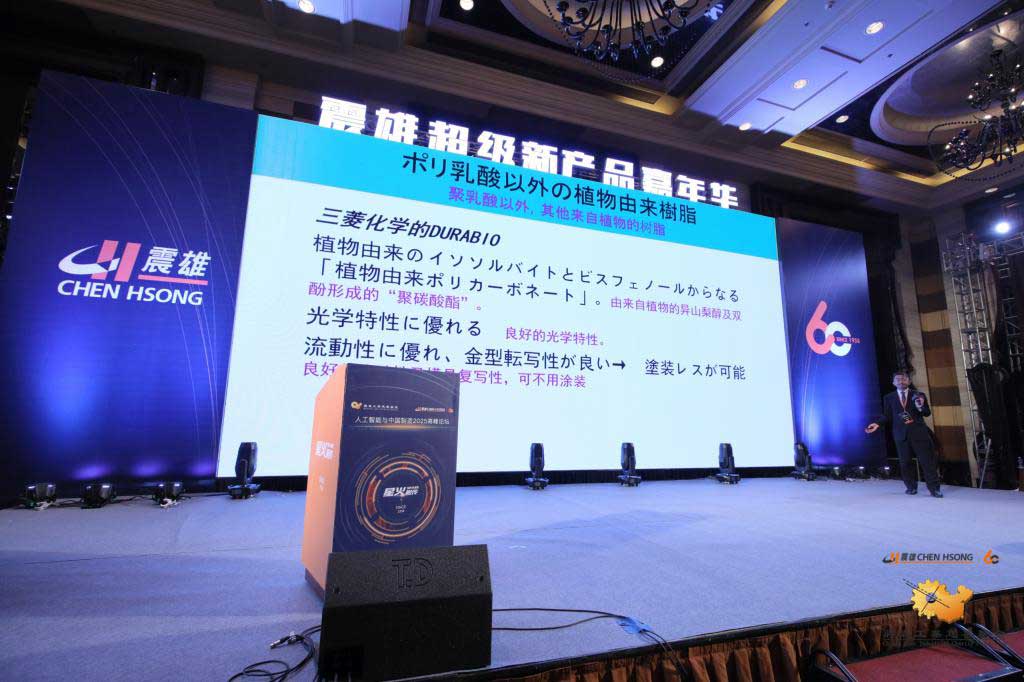 Main Event: SPARKS — Chen Hsong Super New Products Carnival
Chen Hsong showcased five all-new product lines during its first New Products Carnival, which included the SM-SPARK series of all-electric machines, JM-MK6 large-tonnage series extension, the new JM-MK6e series, "XL" ultra-large-shot-weight injection units (for large PE piping parts, for example), as well as the new SM-TP two-platen machines.
SM100-SPARK
The SUPERMASTER SPARK series is the star of the entire carnival — an all-new series of all-electric injection moulding machines. The first thing that caught everybody's eyeballs were the glorious outlooks. But seeing is believing…
Let's check out the machines in their actual, non-Photoshop'ed glory: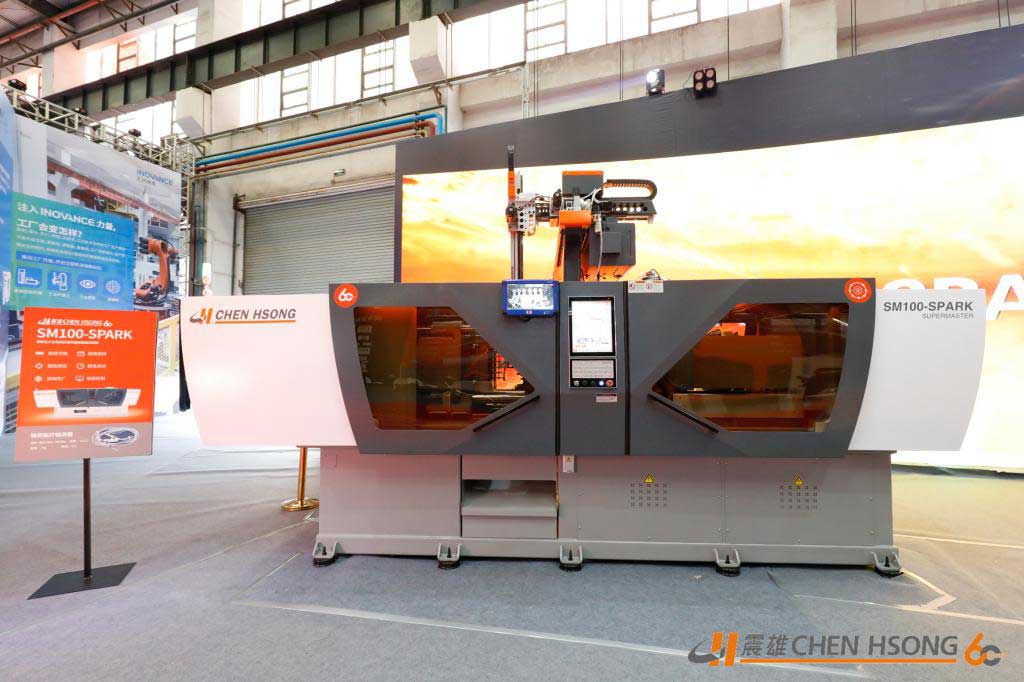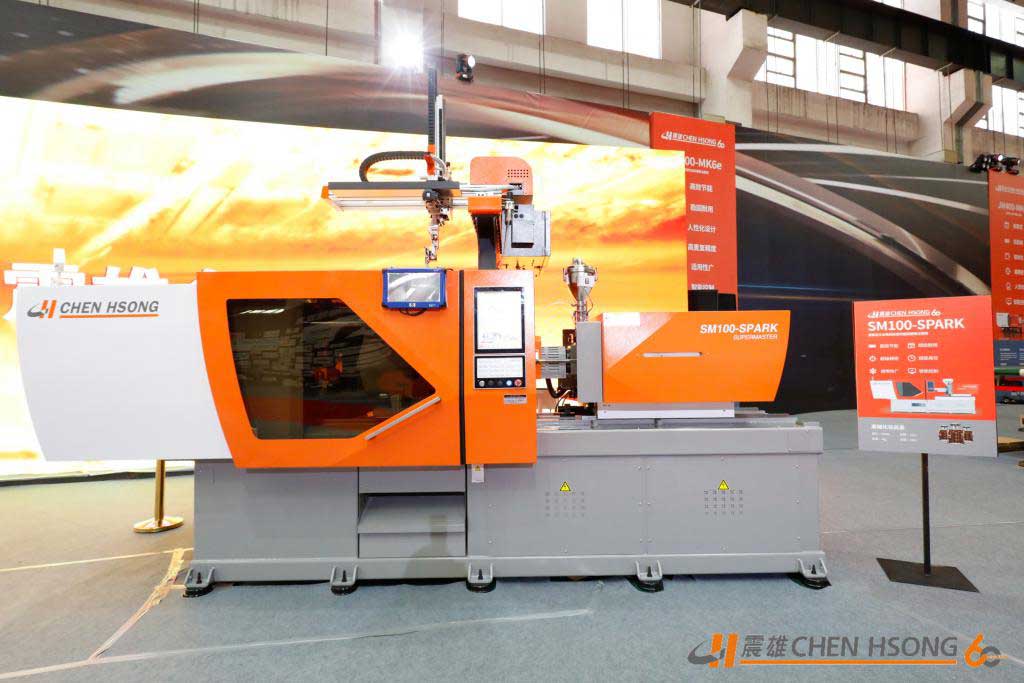 Apart from the obvious good looks, these machines are packed full of "inner beauty" also:
Beauty #1: ABC (Agile Boost Control)
Marriage of a proprietary ultra-high-response servosystem with very-high-speed advanced computer control, yielding no-compromise levels of responsiveness — from zero to 2000rpm in less than 30ms! That is ten times faster than traditional all-electric machines (300ms) in the China market!
Beauty #2: AA (ALL-ADAPT)
"ALL-Adapt" is a package of technologies that enables an all-electric injection moulding machine to gain a wide application window, from ultra-thin-walled moulding (such as high-speed packaging) to thick-walled, high-pressure parts (such as optics). It is made possible by high-end algorithms running in a high-speed computer controller, using data obtained from high-speed digital transducers, allowing the machine to adapt dynamically to the actual moulding process, in real-time, and makes necessary adjustments within milliseconds.
Beauty #3: ASRS (Auto Stress Release System)
"ASRS" is a revolutionary technology that, again, employs high-speed computer algorithms that dynamically monitors, via high-speed digital pressure transducers, the actual motion of the injection screw (<1ms scan time). The computer controller makes real-time adjustments to the motion of the screw when detecting motions that may lead to accumulation of internal stresses on the part — typically the No.1 enemy of high yields and the No.1 reason for rejects.
Beauty #4: AxP with Floating Point Toggle
"AxP" (Algorithm Cross-Protection) is based on high-end electronics, fine-tuned mechanical design and high-speed computer algorithms. It provides total protection to the mould during high-speed clamp closing by monitoring and adjusting, in real-time, the dynamical motions of the clamping ball-screw. The "Floating Point Toggle" design, on the other hand, adds back to the rigid ball-screw system a soft "buffer" that is inherent in a hydraulic system, eliminating mechanical shocks and vibrations and, thereby, reducing operating noise and ensuring buttery-smooth mechanical motions. Both technologies work hand-in-hand together to provide world-class protection to the mould and the machine mechanisms, smooth operations, as well as long and extended machine life.
JM1000-MK6
The MK6 series — acknowledged "Super-Star" product line of Chen Hsong — is now extended to larger tonnages up to 1,600 tons of clamping force. On display was a new JM1000-MK6 (1,000-ton), which brings all the benefits and advantages of the MK6 series to products requiring large tonnages — everything that made the MK6 one of the most talked-about and most praised offerings in recent history, with incredible repeat purchase rate (98.3%) and customer satisfaction (>96%) statistics to match.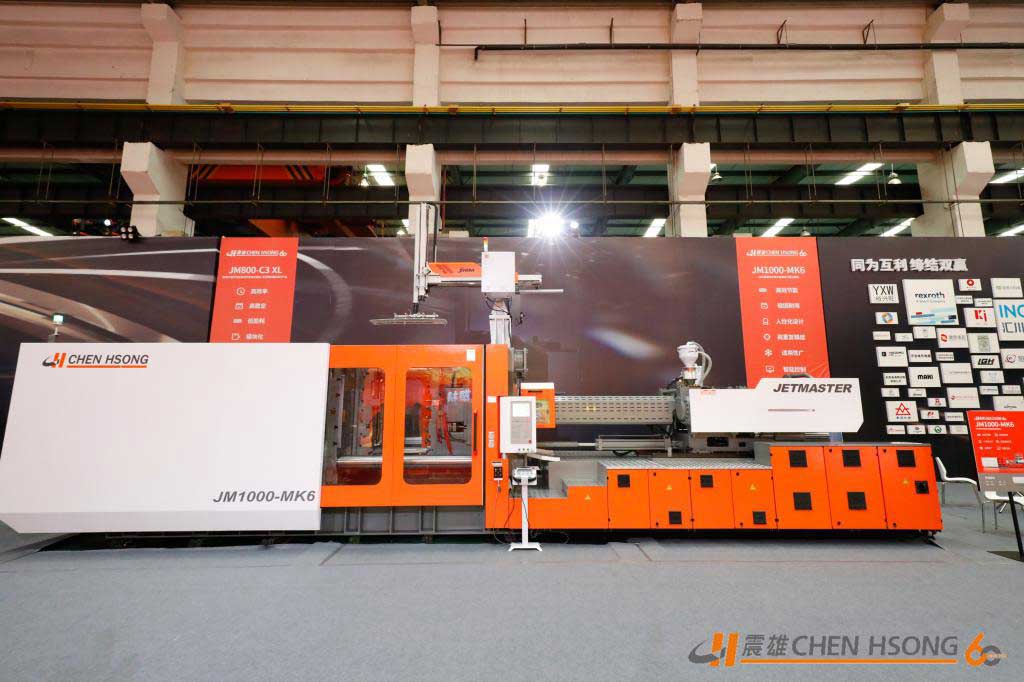 JM-MK6E SERIES
The JM-MK6e series is a refinement of the above-mentioned super-star MK6 series — "e" stands for "evolution" — from the same design team that brought us the MK6 series and using the same Japanese design methodology. The new MK6e series fills a much-needed niche in many manufacturers' equipment line-up with better affordability, more simplicity, and even higher price-performance ratio.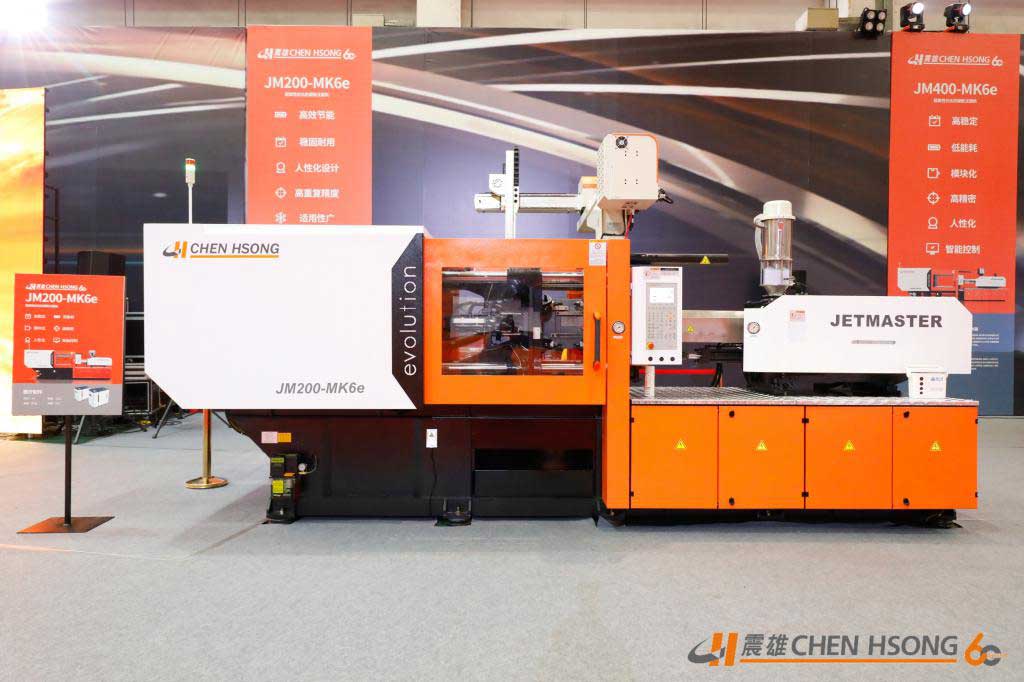 JM800-C3 XL
The new "XL" series of injection units is introduced to fulfill market demands for ever-larger shot-weights. On display was a JM800-C3 large-tonnage machine with an XL injection unit that was ideal for producing large-shot-weight parts such as PE piping.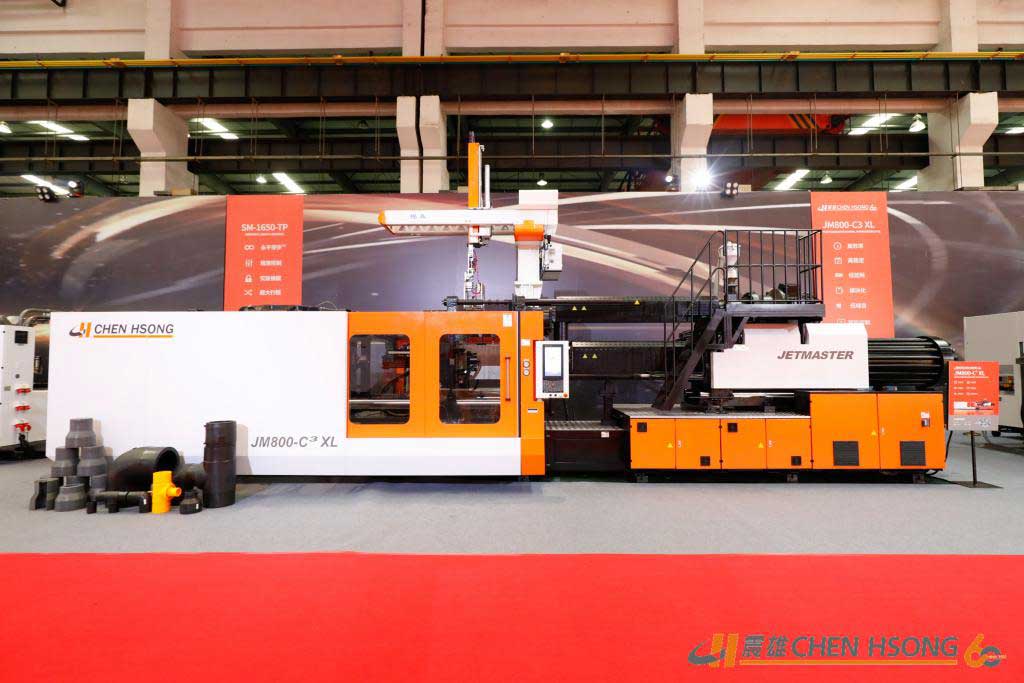 SM1650-TP
Since its launch, the SUPERMASTER TP series of advanced two-platen machine has always been a star product line of Chen Hsong, as well as one of the best sellers. The SM1650-TP displayed was a preview of the next generation of the SM-TP product line with numerous refinements and improvements throughout, in almost all subsystems. The result? More reliability and stability. Higher speeds. Smoother motions. More intelligence. Better, generally.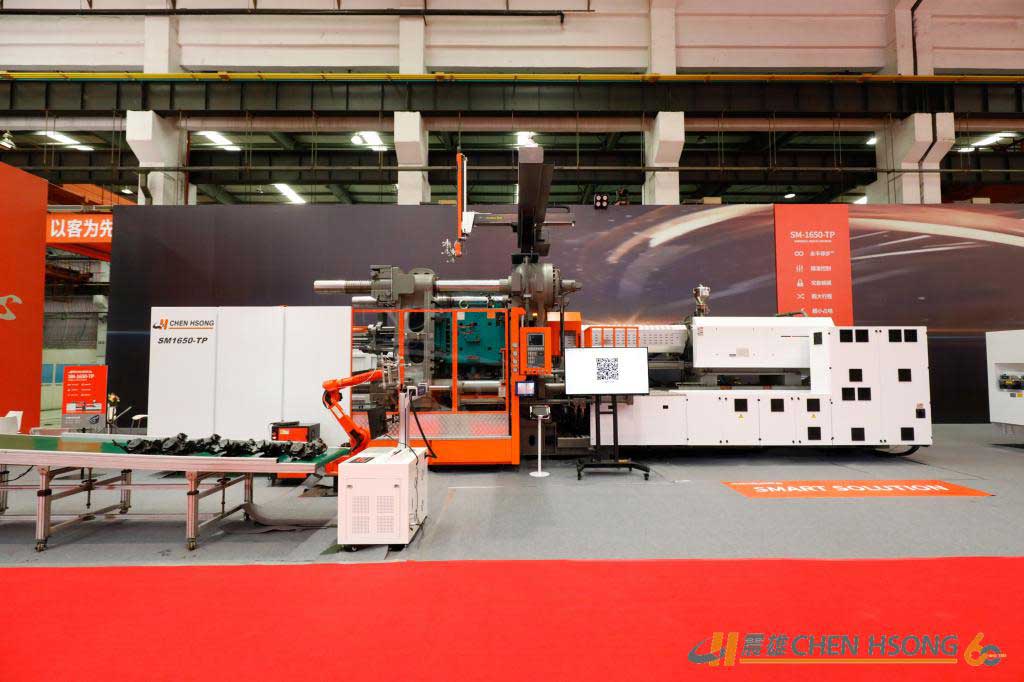 OTS (ONE TOUCH SERVICE)
Launched during the carnival was also "OTS" — One-Touch Service — a system that integrates pre-sales, after-sales and technical services into an easy-to-use on-line offering. Mobile-ready, OTS connects clients directly with technicians in a seamless manner. Cloud-ready, OTS constantly monitors injection moulding machines in the field and provides real-time up-to-date information to clients about their manufacturing equipment line-up. This will have great implications in preventive maintenance, raising utilization, shortening idle time, and improving customer responsiveness.
OTS is one of the cornerstone of Chen Hsong's Industry 4.0 initiatives.
Towards the Future
The new products were not the only highlights in this year's new products carnival. Attending guests were treated to an amazing show of sounds and lights that made for a remarkable experience. The crowd practically got out of hand when a count-down reached zero and, triggered by Chen Hsong chairman Ms. L.Y. Chiang and vice chairman C.K. Chiang, the screen slowly rose amid dazzling electric lights and booming sound effects to allow access to the demo area through a "light tunnel." Tunnel towards the future indeed!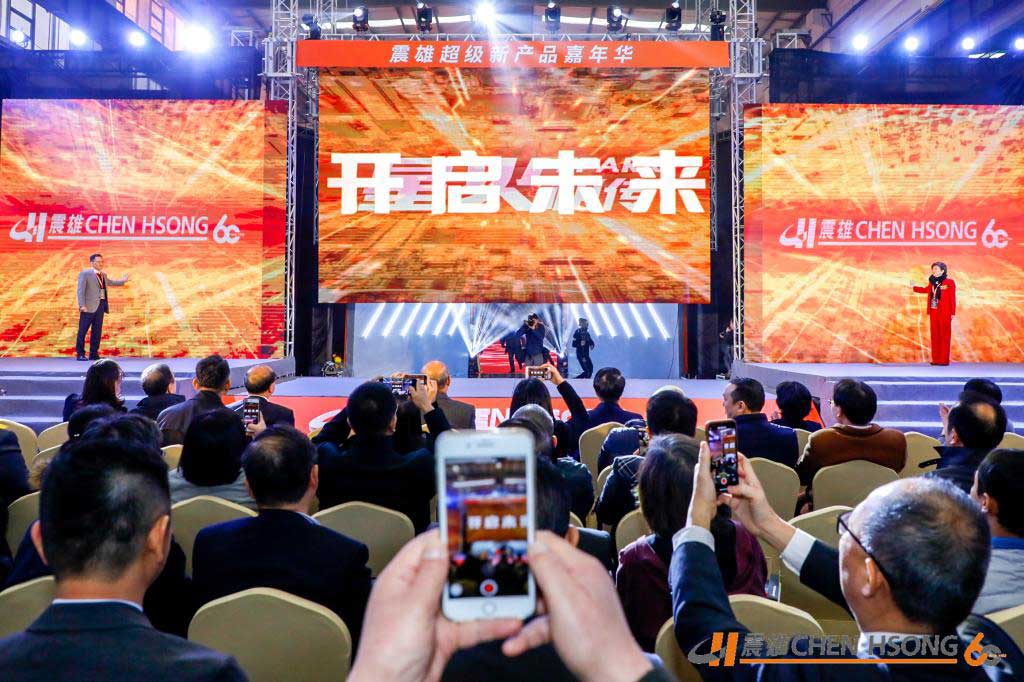 Wrapping Up a Perfect Event: 60th Year Anniversary Banquet
The summit seminar in the morning brought ample "food for thoughts" with exciting new technical directions. The new products carnival made everyone overflowed with excitement after seeing amazing new products and dazzling displays of new technologies. What best, then, to wrap up the entire day's event but by a nice dinner banquet at the Shunde Sheraton Hotel to cater for our physical needs?
Chen Hsong chairman Ms. L.Y. Chiang gave thanks to "the unwavering support of partners and friends from all across the globe, throughout our long 60 years of history, through highs and lows, and through good times and bad." As China enters its 40th year anniversary of the remarkable "Open Door" policy that ultimate brought to the world a new manufacturing power, Chen Hsong, being the first sino-foreigh joint-venture company to establish in Shunde, was always doing our part. Profits had never been Chen Hsong's primary goal, but our responsibilities to the society and the country, as well as insisting on whatever was "right," always came first and foremost.
Chen Hsong is a living and ever-going example of founder Dr. Chiang's motto: Industry for a Prosperous Nation. For 60 years now we have been doing that and never deviating from the goal of making contributions to the country via industry. As chairman Chiang's words strike deep into our hears, we know that we'll use the next 60 years to continue to pursue this ideal of ours.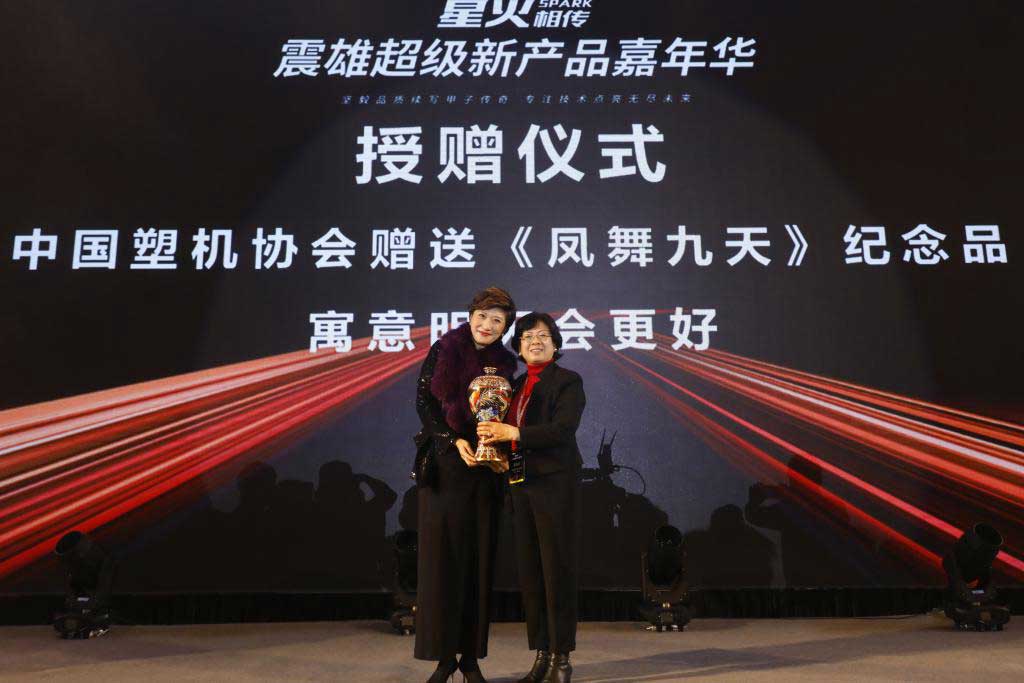 Towards the Next 60 Years — with Innovative Technologies
The future, by definition, is unknowable. Therefore, by default, future potentials are also without bounds. This is well reflected in a gift presented to Chen Hsong by the China Plastics Machinery Association — a sculpture titled "Phoenix Upon the Nine Heavens." Need say more?
Yes! The future for Chen Hsong can only be brighter and better!
Yes! Towards the Next 60 Years we go!
You may also be interested in the following