Let The Sparks Fly!
K Show will once again be the global highlight this October for pioneering innovations and developments as well as visionary impulses. What began as a small consumer fair in 1952, has developed into the world's leading trade fair for the entire plastics and rubber industry. This year, K celebrates its 70th anniversary.
Under the veil of mystery, what kind of passion will the 70-year-old K Show and the 64-year-old Chen Hsong Group ignite?
70 years of K Show, a Success Story Made in Düsseldorf – Timeless!
K Show was founded in 1952. After 70 years, it has developed into an industry synonym for "first-in-class, timeless". It leads the way as the benchmark and driving force within the rubber and plastics industry, providing huge opportunities for progress and development.
The pandemic has been ruthless, but the global rubber and plastics industry is still forging ahead. Exhibitors in the industry remain enthusiastic about K 2022, and the scale of the exhibition is comparable to pre-covid times. According to the organizer's statistics, more than 3,000 exhibitors from 61 countries will crowd the entire exhibition hall.
64 Years – Chen Hsong's Heritage
Chen Hsong Group was established in Hong Kong, China in 1958. After 64 years of trials and hardships, with an annual production capacity of 20,000 machines, it has become one of the largest injection moulding machine manufacturers in the world. Production and R&D centres in Shenzhen, Shunde, Ningbo, Taiwan, China, and numerous other places, provide a full range of machines ranging from 20 Tons to 6500 Tons of clamping force, to over 80 countries and regions around the world. Listed on the Hong Kong Stock Exchange in 1991, it became the first listed plastic machinery company in China.
Professional Focus – Strategic Partnership
Late Chen Hsong Group founder, Dr. Chiang successfully built the first 10oz in-line screw-type injection moulding machine in Hong Kong in the 1960s. He always focused on the plastic injection industry and placed many efforts on R&D and innovation, owning more than 200 independent patented technologies.
In 2011, Hong Kong's Chen Hsong Group and leading tech giant Mitsubishi in Japan reached a global strategic partnership based on their technical background and gradually introduced Japan's most advanced production and quality management models such as lean production, TPS, Mitsubishi quality system, M System, and more. Production quality and technical capabilities have since improved by leaps and bounds.
K & CH Joining Hands to Connect with the Global Plastic Industry
Over the years, Hong Kong, as a gateway for China to connect with the world, has played a major role in connecting international market resources, information, and funds. Similarly, the Chen Hsong Group, founded in Hong Kong, has long assumed the responsibility of connecting China to the global injection moulding market thanks to its strategic technological position and its key business locations. Chen Hsong is nearly the same age as K show, and it is one of the earliest plastics machine companies in China to participate in the K. By expanding abroad and going international Chen Hsong Group has set an example, having faithfully participated in the K show for decades, Chen Hsong Group carries the responsibility of displaying China's advanced equipment technology and cutting-edge, future technology solutions to the world.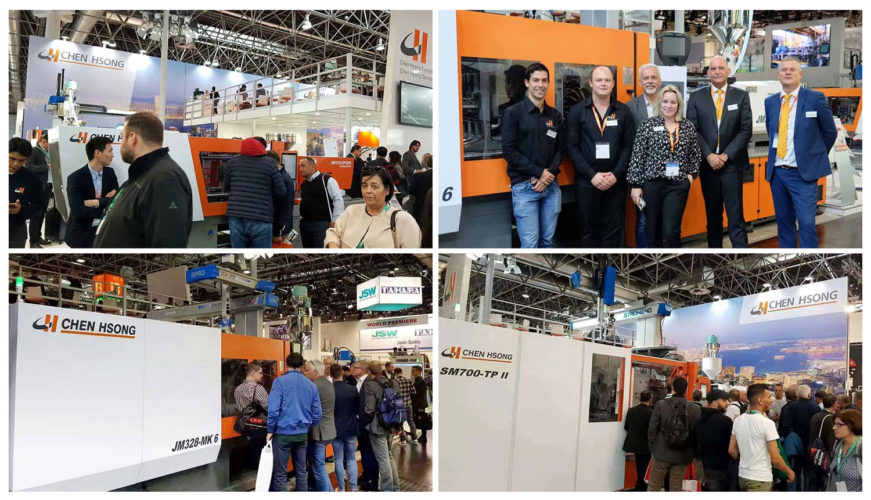 K2022 Chen Hsong Group is gaining momentum
With only a few days left until the opening of K2022, the Chen Hsong Group is fully prepared for its next appearance on the world stage and is poised to go. At the last K2019, Chen Hsong's impressive range of machines shined at the Düsseldorf Exhibition Center, so what treasures will be unveiled this year?
If you are visiting the show do not hesitate to check out our K-hub, gather more details and maybe even schedule an appointment with our team. With our industry-specific solutions and our application knowledge, we can efficiently support you on the road to market success as your partner with thorough application knowledge, solid and qualified consultancy support, and full turnkey solutions for large-scale operations.
You may also be interested in the following