(29 Mar 2011 – Hong Kong) – Chen Hsong Holdings limited ("the Company", together with its subsidiaries, "the Group"; stock code:0057.HK), is pleased to announce the Group has entered into agreement in connection with the business collaboration with Mitsubishi Heavy Industries Plastic Technology Co., Ltd. ("Mitsubishi"), one of the leading Japanese manufacturers worldwide, regarding the manufacturing and OEM manufacturing of Large Sized Hydraulic Injection Molding Machine on 29 March 2011.
Under the License Agreement, Mitsubishi has granted the Group to use Mitsubishi's technology and know-how necessary for the manufacture and sale of large size two platen type hydraulic injection molding machines exclusively in the People's Republic of China, Hong Kong, Macau and Taiwan (the "Territory") and non-exclusively in other regions. This would definitely enhance the Group's capability, both from technology and manufacturing technique perspectives, in the development of large size two platen type machines.
In addition, an OEM Manufacturing and Supply Agreement has been signed regarding the appointment of the Group as Mitsubishi's exclusive manufacturer in the Territory to manufacture large size two platen type hydraulic injection molding machines according to Mitsubishi's specification. A newly designed large sized two platen hydraulic injection molding machine will be manufactured in the Group's production facilities in the People's Republic of China, focusing mainly o energy efficiency and better price-performance ratio.
The Group believes that the collaboration with Mitsubishi will further strengthen the capability of the Group in technology break-through and research and development, especially in the large size two platen type machines. With the help from Mitsubishi and our continued efforts spent by the Group over the years, the Group is optimistic that the newly developed products will deliver better price-performance ratio to the customers.
Company Background
Chen Hsong Holdings Limited (stock code:57) is one of the leading plastic injection molding machine manufacturers in the People's Republic of China and was established in 1958. The Group owns four production facilities in Shenzhen, Shunde, Ningbo and Taiwan. The Group was listed on the Main Board of The Stock Exchange of Hong Kong Limited in 1991. In addition, the Group was selected as one of the 200 "Best Under A Billion" Asia listed companies by the reputable regional financial publication 'Forbes Asia' in 2005.

Corporate Communications Department
The Chen Hsong Group
Tel:2665 3888
Fax:2664 8202
E-mail:comm@chenhsong.com.hk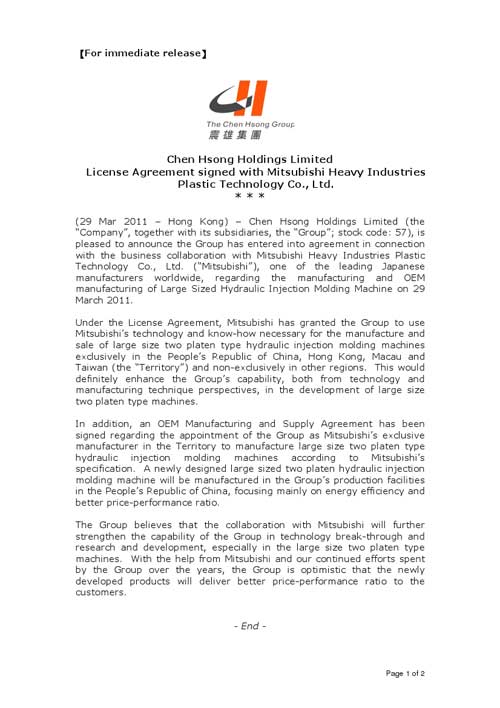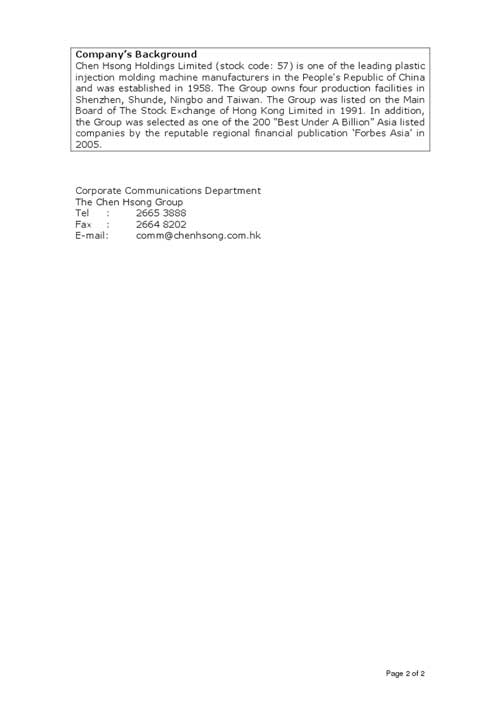 You may also be interested in the following