Plastic Injection Molding of Car Radiator Tank with PA+GF Resin
Automotive radiator designs have changed over the years, and recently there's been a trend towards using radiator tanks made mostly from plastic instead of metal. Plastic injection molded automotive radiators are cheaper to produce and easier to install than their metal counterparts.
Because of the harsh operating conditions, the plastic radiator tanks are made from glass-reinforced nylon, a plastic that features a high-softening point. The high-softening-point nylon plastic is what helps the plastic injected radiator tank withstand the pressure and temperatures involved.
Speed, efficiency, and quality; all these are attained with the Mk6e  plastic injection molding machine. Chenhsong Mk6 Evolution series of machines are bringing great satisfaction to our valued client who is manufacturing automotive components in the High-tech Industrial Development Zone.
The part made of PA+GF20 plastic is produced under semi-automatic operation mode with a cycle time of 52.9seconds.
The JM 480 Mk6 e injection molding machine is operating at 480 tons of clamping force, and with the CP6 controller high volume production is an easy task for our client in the automotive industry.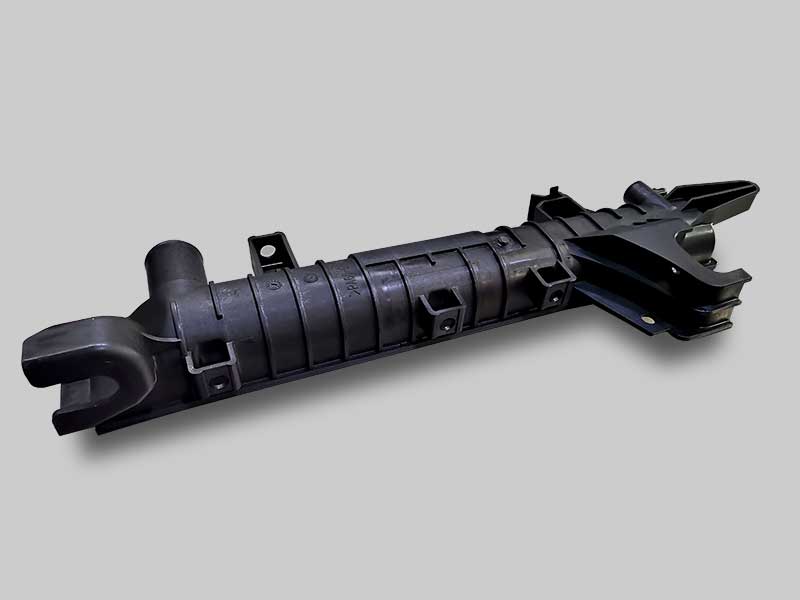 Machine Details
Type: Toggle machine

Clamping Force: 480 tons

Controller: CPC6.0
Part Details
Part: Car Radiator Tank

Resin: PA+GF

Cavities: 1

Cycle Time: 59.2 secs.

Op Mode: Semi-automatic
Other
Pickup method: Manual
You may also be interested in the following