Fully Automatic Plastic Injection Molding of Car Rear Door Map Pockets
30 of our JM650-C3-SVP/2 Injection Molding Machines are working full-time in Shunyi District, Beijing to manufacture car rear door map pockets.
Operating in fully automatic mode, two rear door map pockets are completed in a cycle time of 35 seconds as a robotic arm offloads the parts, delivering high quality parts in time to meet the manufacturers strict deadlines.
The JM650-C3-SVP/2 is a High precision servo driven plastic injection molding machine, with up to 650 tons of clamping force. In this particular configuration the machine is filling 2 cavities with a shot weight of 211 grams each. The part is made of PP with a wall thickness requirement of 2mm.
Operating consistently since 2015, these 30 plus JM650-C3-SVP/2 Injection Molding Machines fitted with custom Nippobata Ai-12 controllers undergo regular maintenance by our Service team and are an invaluable asset in our customer's manufacturing capabilities.
*This machine series has been replaced and upgraded by our newer series of injection moulding machines.
Click here for more details.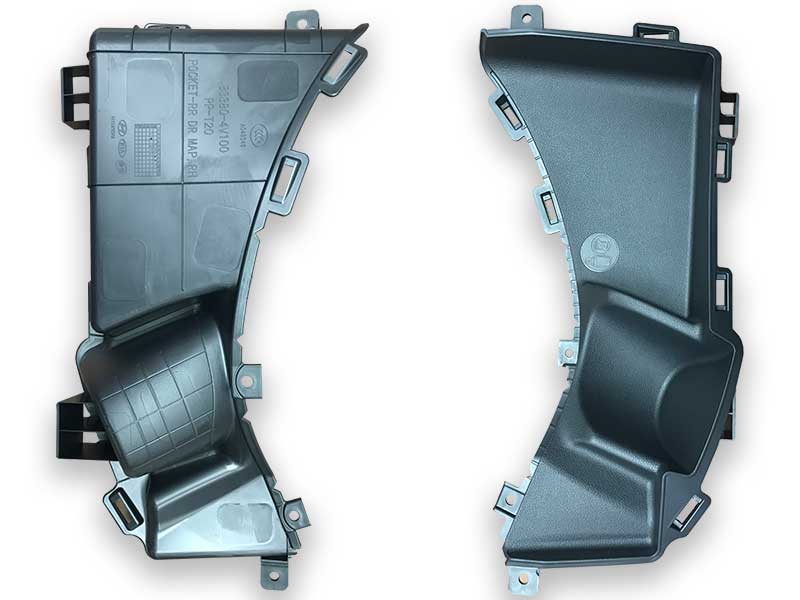 Machine Details
Type: High-Speed Toggle

Year: 2016

Clamping Force: 650

Power Pack: SVP/2+ Servo Drive

Controller: Ai 12
Operator Details
Country: China

Location: Beijing

Number of Machines: 30
Part Details
Part: Rear Door Map Pockets

Resin: PP

Cavities: 2

Dimensions: 415mm X 203mm X 89mm

Product weight: 211 grams each

Thickness: 2mm

Cycle Time: 35 seconds

Op Mode: Fully-automatic
You may also be interested in the following