Injection Molding of Car Glove Compartments
Meeting the ever-increasing demands of the industrial and automotive industry, our client in the High-tech Industrial Development Zone of Changchun is keeping ahead of the competition with the fully automatic JM-1400-C3-SVP/2 plastic injection molding machine series. 10 machines are producing these high-quality PP / PE plastic glove compartment storage boxes at the Changchun High-tech Industrial Development Zone.
Large volume orders are quickly filled with the JM-1400-C3-SVP/2 currently set at 1400 tons of clamping force and thanks to the machines reliability, mold wear and down time have been greatly reduced.
1090mm X 310mm X 220mm glove boxes with a wall thickness of 2mm are produced at a rate of one every 82 seconds. The shot weight is 2080 g and the machine is running in fully automatic mode with the AI-12 controller installed.
*This machine series has been replaced and upgraded by our newer series of injection moulding machines.
Click here for more details.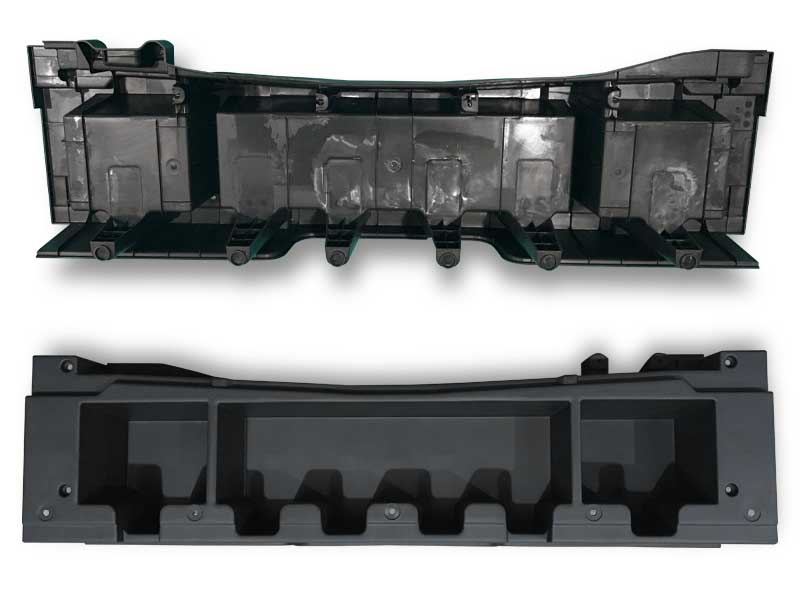 Machine Details
Type: High-Speed Toggle

Year: 2015

Clamping Force: 1400

Power Pack: SVP/2+ Servo Drive

Controller: Ai-12
Operator Details
Country: China

Location: Changchun

Number of Machines: 10
Part Details
Part: Car Storage Compartment

Resin: PP/PE

Cavities: 1

Dimensions: 1090mm X 310mm X 220mm

Product weight: 2080 grams each

Thickness: 2mm

Cycle Time: 82 seconds

Op Mode: Fully-automatic
You may also be interested in the following