Creating Value for Customers.
GSK and Chen Hsong share the same quality spirit; hand-in-hand we grow!
Pursuit of perfection in auto parts texture – Chen Hsong machines for GSK Group
GSK Group is a comprehensive auto parts manufacturer and a transnational company based in Taiwan and commenced its operation since 1953.
GSK Group has now over 12000 employees and 45 subsidiaries flourish all over the asia, including the PRC, Malaysia and Vietnam. GSK Group has continuously purchased approximately 120 machines, ranging from 210 to 2,500 tons, from Chen Hsong which comprised of 98% of all their machines in GSK.
Operating side-by-side with big automobile companies to provide instant service, GSK Group has a proven record in servicing major auto companies over the years. Ford, Mitsubishi, Honda, Toyota, Hyundai, Volkswagen, MAZDA, SUBARU, Nanjing Automotive, Dong Feng, RENAULT, JCM, Haima and Morris Garages are all major clients of GSK Group.
Enthusiasm in improving manufacturing technique perfects auto parts texture
Auto parts manufacturers have the most demanding requirements in textured auto parts, while Chen Hsong gains the recognition from GSK Group by offering stable machine with cutting-edge technology, high precision and good after sales service.
The surface texture, fire resistant and impact resilience of the product were essential and key to remain competitiveness in this highly competitive market.
Being the leader in automotive Interior manufacturer, GSK Nanjing plant produces interior door, steering wheel, seat by Chen Hsong machines, both Toggle and Dual platen IMM.
Precision control on injection speed, shorten cooling time and shrink control of the product are the main focuses, especially for the low pressure thin-wall products.
Turn-key solution offered by Chen Hsong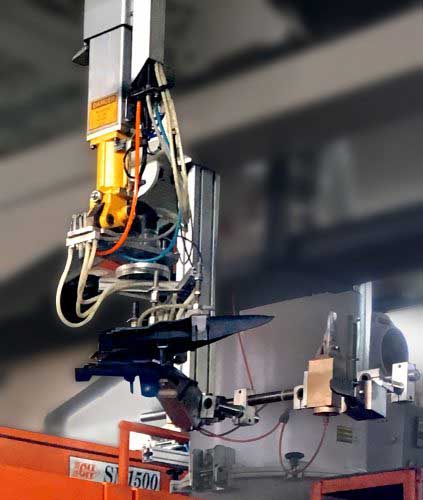 With Chen Hsong's highly effective automatic turn-key solution which offers one-stop solution covering product take out, water gates cutting, final products examination and storage. GSK Group are able to reduce production cycle time substantially and achieve their goal of smart factory management system with over 99% product acceptance rate.
All 19 general managers and technical production managers do not hesitate to recommend Chen Hsong machine, especially for its endurance, stability and excellent service.
"We strongly recommend Chen Hsong, being a strong and experienced PIMM manufacturer which offers excellent service and great turn-key solution for us."
You may also be interested in the following